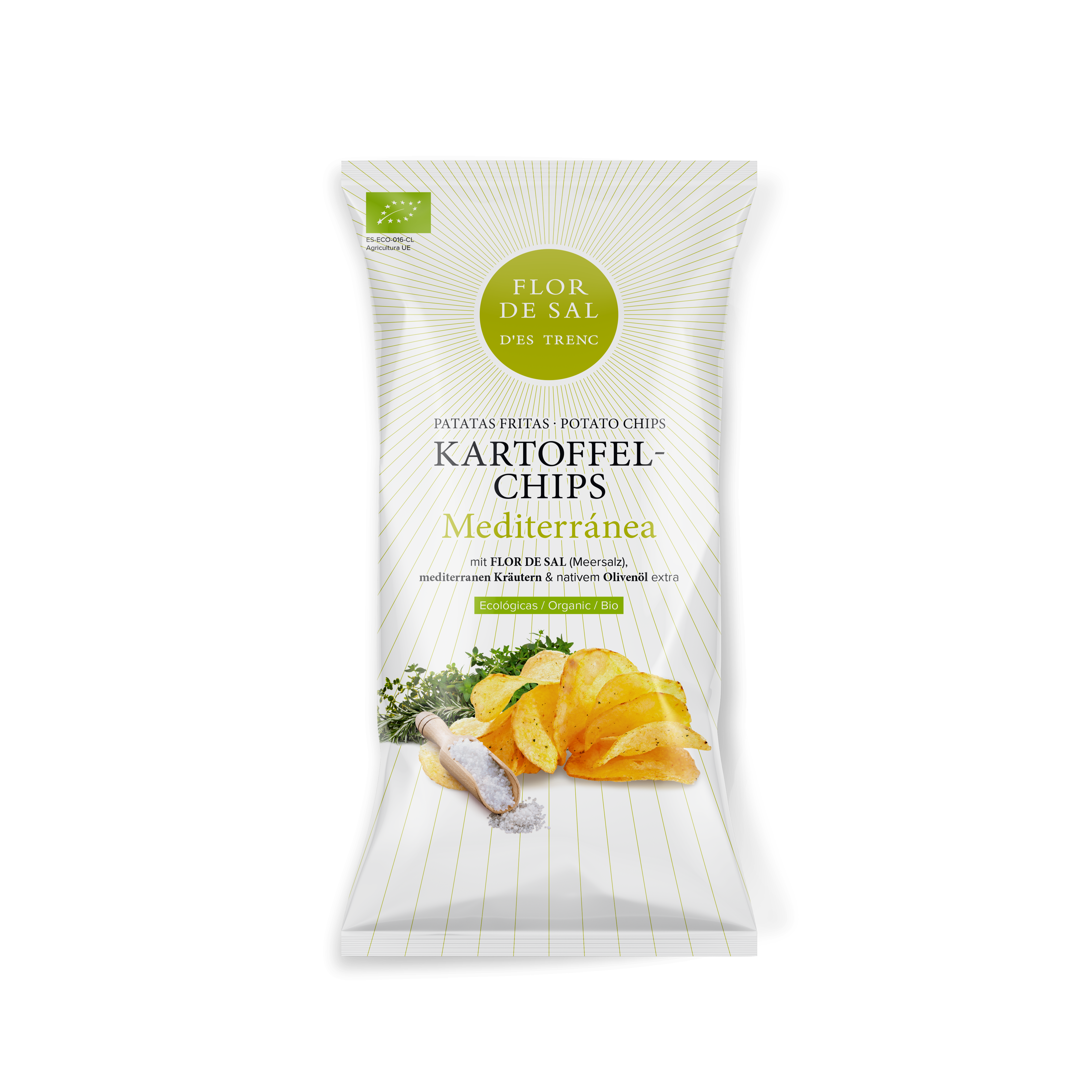 Chips Flor de Sal Mediterránea
✓ with original Majorcan organic spice salt

✓ harmonious taste, mild aroma

✓ high content of minerals
Description

Only three ingredients are needed for really high-quality potato crisps: potatoes, olive oil, and Flor de Sal d'Es Trenc Mediterránea.
The natural sea salt is rightly regarded as one of the highest quality salts you could wish for.
In the southeast of the Balearic island Mallorca it is carefully harvested by hand and captivates by its fine taste.
It's no wonder that you can also make unique potato crisps from this premium product. In combination with high-quality organic potatoes and aromatic organic olive oil, it becomes an exquisite snack, a spicy side dish, or an appetizing starter.
The ideal partner for an aperitif is available in 40-gram and 125-gram bags.
Additional information
Weight
0.125 kg
Dimensions
30 × 27 × 39.5 cm
Manufacturer
Gusto Mundial Balearides S.L.
EAN
8437000299158 (125g), 8437000299134 (40g)
Origin

Spain ES
Quality
100% organic, EEC 834/2007 norm, EU organic logo, EU agriculture / non EU agriculture
Control organism
ES-ECO-013-IB / CBPAE
Ingredients
Potatoes * (61%), extra virgin olive oil *(38%) and Flor de Sal d'Es Trenc Mediterránea (1%), Flor de Sal d'Es Trenc (seasalt), rosemary, oregano, thyme, savory and marjoram).
* from ecological cultivation
Storage information
Store in a cool dry place
Nutrition information (per 100g)

Calorific value: 2363 kJ/568 kcal
Fat: 38,7 g
of which saturated fatty acids: 6 g
Carbohydrates: 46,6 g
of which sugar: 0,2 g
Protein: 1,7 g
Dietary fibre: 7.4 g
Salt: 1 g
davon gesättigte Fettsäuren
6 g
Aus den Salinen in die Küche
In den Salinen auf den Geschmack gekommen? Holen Sie sich jetzt Ihre Prise Mallorca nach Hause.